LUBE TECHNOLOGY-Marquette Welders from Lincoln Automotive
Recent Update: Saturday, November 09, 2019
Willmar
Profile / About Us
Privacy
Security
Online Ordering Information
4 ways to Order!!
Fax: 1-616-676-1287
TEL: 1-616-676-1792
Email: Sales
Mail: Willmar International
P.O. Box 456, Ada, MI. 49301
Welcome: If you arrived here on a "Redirect"; It is because our former ISP iserv.net has decided not to be in the web hosting business and so we have started a new website: www.LubeandJack.com. Please read the profile / About us and select the company you wish to visit or use the Google Search
M12184 MIG GAS/NO GAS WELDER W/ CART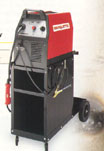 Power, Performance, Versatility and Affordability are the hallmarks of the new M12184 (135 amp/115 volt) GAS/NO GAS MIG Welder. This single-phase, constant voltage power source can weld from 24 guage steel to 1/4" steel. It will operate with solid wire and gas (GMAW) or as a gasless wire feed welder (FCAW) when used with flux-cored tubular welding wire. The unit comes complete with a heavy-duty three shelf cart to hold all your essentials.
Model includes the following: Heavy-Duty Wire Feed Gun; Ground Cable and Clamp; Gas Regulator and Hose; Welding Nozzle; Spool of Wire; Contact tip assortment; Easy to Read instruction Manual; Heavy-Duty 3 shelf roll -around cart; Cart size: 25 3/4" High; Top Tray: 12-5/8" x 19-1/4"
FEATURES OF THE MODEL 12184 MIG Welder
Circuit controlled ARC slopes which provide a smooth, consistent ARC start and finish;
Exceptional smooth ARC. Ideal for Collision Repair Shops with GAS or outside applications without gas
Torch assembly with compact gun is excellent for tight spot applications;
Heavy-Duty welding cart for Argon/CO2 Bottle;
Welds Steel, Stainless and Aluminum;
Fan Cooled overload protecting heat sensing thermostat;
Manual spot weld and continuous weld with infinite wire speed will give you a perfect weld;
Seven step current selector;
Heavy-Duty drive roll system allows you to use .023" to .035" wires;
Fine-Tune wire speed potentiameter;
Easy Polarity changeover for use of flux-cored wire;
Built-in thermal overload protection.
Input Voltage
Input Current
Output Voltage
Output Current
Duty Cycle
MAX Thickness
Capacity
Steel
Dimensions
Weight
115 VOLTS
(SINGLE PHASE)
23 AMPS
18 V.D.C.

135 AMPS
Max.

100% - 15%
1/4"

H- 44"
W 13"
D 32-1/2"

120 lbs
54.4 KG
Return to Main Welder Page
Return to Welder Pricing Page
---
Web Address and Mail To Information
For Additional Information or Technical Information, send us an email from this web page at the address below. Please specify the Model Number. Please include your name, address, city, state, zip, Telephone Number and Fax Number in the email and we will send you the requested Information.
Contact us by mail or fax at:
Address: Lube Technology/Willmar International
P.O. Box 456
Ada, MI. 49301 USA
TELEPHONE: 1-616-676-1287
TELEPHONE: 1-616-676-1792
FAX: 1-616-676-1287
---