LUBE TECHNOLOGY
-Lincoln Automotive

W93731 - 20 Ton Air Operated Hydraulic Service Jack with Low Height Pickup

Lifts Loaded Trucks and Trailers by the Axles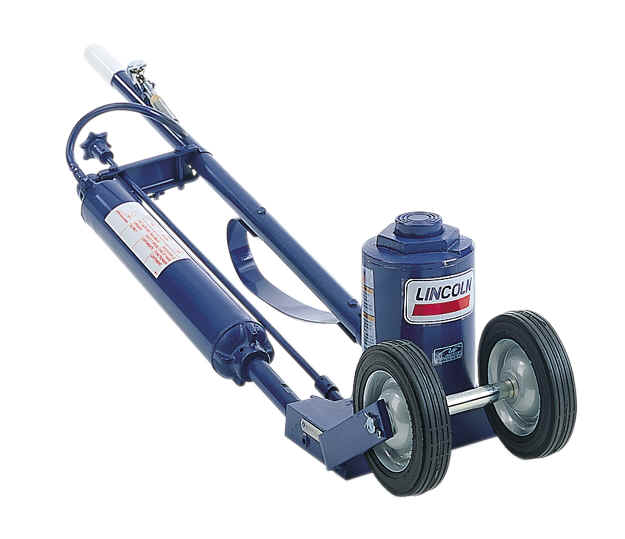 Compact, Portable, Easy to Transport and Store
Patented "Speed Pak" provides effortless Lift; the Air does the work
Large Semi-Pneumatic Tires enhance mobility.
Automatic valve prevents overloading
Extension Screw permits low Pickup Height Adjustment
Optional W93269(Price??) "V" adapter for W93731; Optional Adapter provides added surface contact and stability for axle and other curved surface lifts. Adds 3" to low pick up heights.
Model
Capacity
Low
Height
High
Lift
Point
Power
Raise
Extension
Screw
Handle
Length
Base
Size
Min PSI
for
Rated
Load
W93731
20 Ton
9-1/2"
17-1/2"
5-1/2"
2-1/2"
50"
8"X5-1/2"
140
Return to Lincoln Jack and Lifting Equipment Page
Return to Main Jack and Lifting Equipment Page
Return to Main Menu
---
Web Address and Mail To Information
For Additional Information or Technical Information, send us an email from this web page at the address below. Please specify the Model Number. Please include your name, address, city, state, zip, Telephone Number and Fax Number in the email and we will send you the requested Information.
Contact us by mail or fax at:
Address: Lube Technology/Willmar International
         P.O. Box 456
         Ada, MI. 49301 USA
TELEPHONE: 1-616-676-1287
TELEPHONE: 1-616-676-1792
FAX: 1-616-676-1287
---
WEB PAGE ADDRESS: https://www.lubeandjack.com/~wmogrady/lube.html


Recent Update: January 21, 2001 at 10:30AM
For more information contact: AT: MAIL TO: wmogrady@iserv.net
Return to Main Menu